Well it's been a heck of a year both personally and for the world at
large. I thought it would be fun to do a review of this past year, I dug around on the internet to see what interesting tid-bits I could find and compiled a little list of the odds and ends that I thought were interesting (or at least too outrageous to leave out).
Top 10 films of the year, I am so out of the "loop" I didn't see even one of them!
10. "Adventureland"
9. "The Hurt Locker"
8. "The Girlfriend Experience"
7. "Fantastic Mr. Fox"
6. "(500) Days of Summer"
5. "Food, Inc."
4. "I Love You, Man"
3. "Precious"
2. "Inglourious Basterds"
1. "Up In The Air
Top 10 REALITY TV shows of 2009:
Ok I am feeling kind of relieved because I could not find an actual list of the top 10. I did, however find a ton of sites that listed their personal top 10 favorite reality shows......sad I know......I am going to list my favs, but hopefully I will not have 10 (if so I need to make a resolution to get out more in 2010 ;)
Keeping Up with the Kardashians (smut TV at it's best)
Bridezillas (it's a sickness, I know)
Property Virgins
Iron Chef
Man VS. Food
*sigh* this is all I can think of, YAY!!!
Top 10 TV shows of 2009 - this list is actually the top 10 most pirated shows. House is my favorite.
Top 10 songs, at least I have heard some from this list......still you would think I live under a rock, I have not heard the majority of them.
| | | | |
| --- | --- | --- | --- |
| 1 | 1 | Fireflies | Owl City |
| 2 | 3 | TiK ToK | Ke$ha |
| 3 | 2 | Bad Romance | Lady GaGa |
| 4 | 4 | I Gotta Feeling | Black Eyed Peas |
| 5 | 5 | Replay | Iyaz |
| 6 | 6 | Down | Jay Sean Featuring Lil Wayne |
| 7 | 9 | Party In The U.S.A. | Miley Cyrus |
| 8 | 7 | Whatcha Say | Jason Derulo |
| 9 | 10 | Empire State Of Mind | Jay-Z + Alicia Keys |
| 10 | -- | All I Want For Christmas Is You | Mariah Carey |
Top 10 news stories: (subjective from www.slate.com, I had trouble finding something non-subjective?)
Earlier this week,
Slate
asked readers to help
rank the 10 most important news events of the year
. You responded in droves with your picks for the most compelling topics of 2009. Find out where your selections ranked below. (Sorry, Balloon Boy, you came up a little shy.)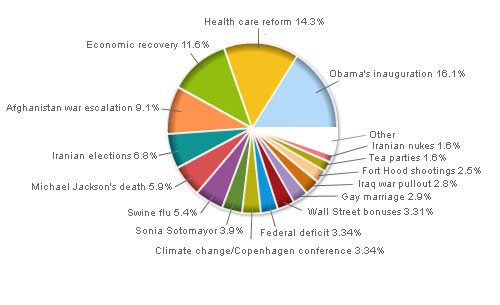 1)
The historic inauguration of the United States' first African-American commander in chief
, Barack Obama, topped your list of the most important events of the year with 16 percent of the vote.
2)
Health care reform was either a topic of consternation
or a cause for jubilation, depending on whom you asked; it garnered 14 percent of the vote.
3)
Some pundits declared the recession over
, whether the populace agreed or not. Economic recovery efforts snagged 12 percent of the vote.
4)
The president's decision to send more troops to Afghanistan
in hopes of bringing most soldiers home in 2011 finished with 9 percent of the vote.
5)
Alleged fraud and widespread protests marred the Iranian presidential elections in June
, garnering 7 percent of the vote.
6)
King of Pop Michael Jackson's death shocked millions and spurred worldwide mourning
, coming in with 6 percent of the vote.
7)
Panic over the lethal swine flu pandemic caused at least one nation to eradicate pigs and others to stockpile vaccines
—you ranked the hysteria seventh on the list with 5 percent of the vote.
8) One of President Obama's first moves from the Oval Office
was to nominate Sonia Sotomayor to the Supreme Court
, and she was subsequently confirmed, which earned 4 percent of the vote.
9) International and domestic efforts to draft
climate change laws are gaining attention due to this week's Copenhagen conference
. The subject drew 3 percent of the vote.
10) And finally, a topic we haven't seen the last of: The
ever-increasing federal deficit
finished with 3 percent of the vote.
I can say that 2009 has had it's up's and downs, and I would say that they have been fairly evenly distributed. In my personal life, 2009 also had it's ups and downs.
+ I got engaged (wedding in 2010!)
- I accepted a position at another company for more pay, but it turned out that the grass was not greener.

+ The job helped me to remember who I am and to take control of my life again, I have enrolled in school (once more) for 2010 and am looking to what the future may bring with this career changing decision.
- I have to stick with the job for another year......haha, I will survive though.
+I started to make my own soap among other products and plan to launch my line in 2010 (check me out at http://www.myserendipityquest.com )
- I don't have enough time to make all the items I have ideas for currently

+ Aside form a few colds and aches, myself and everyone I love has been fairly healthy this year.
- there's not counterbalancing minus to something like that.
All in all 2009 was tolerable, I look to 2010 to bring new ups and downs as well as adventures and more stories to share here on my blog.
I am signing off now, I hope that everyone has a wonderful and safe New Year's Eve!!!! Look for me in 2010!!!!!
~City Mouse - last blog of the year!!!!!
Here are a couple of other year's in review that i found to be pretty cool, enjoy!
http://www.miamiherald.com/living/columnists/dave-barry/v-print/story/1397654.html
http://www.walkingoffthebigapple.com/2009/12/strolling-year-in-review-2009.html